More Custom Clouds and Classic Coaches
This page was created by Charlie Wolters.
The pictures were supplied by Jim Watts, Joaquin Rivera, Charlie Wolters, and others.
2.

Was this Elvis' car?
Robbin White in Georgia inherited this car from her father, Hal White.
Hal reportedly purchased the vehicle out of a museum where it had been
displayed with a Tennessee license plate from 1976, and the name Elvis on it.
Reportedly it had been purchased by Elvis. This story has not been verified.
The car has a new Jasper engine.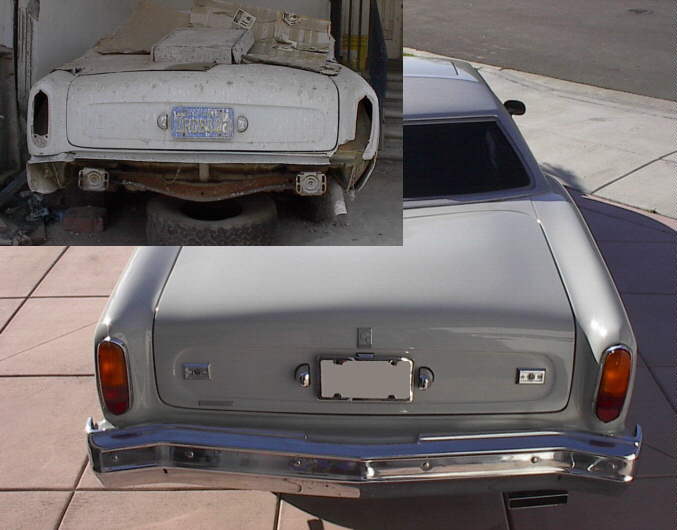 Would you believe...
...that both pictures are of the same car? What a difference a total
restoration can make! Joaquin Rivera took before, during, and after
pictures of the whole project. You can see them all right here.
Unfortunately...
...the car below is also the same car. After the title was lost and the front
fender damaged, the owner parted it out and sold what was left for $450
on Ebay in the last week of 2010. It sold minus the engine, transmission,
grill, taillights and front seat, so I was told.
4.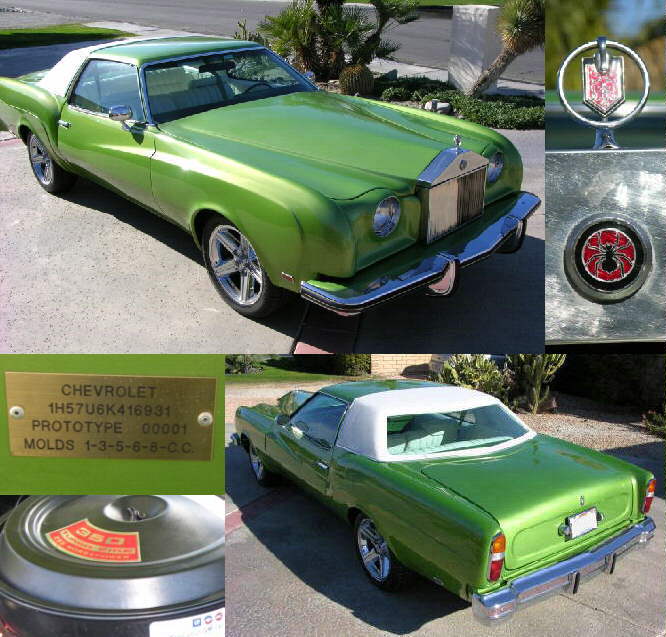 This car was offered on eBay early in 2008. The seller claimed it was the first
prototype Custom Cloud. I asked Jon Tedesco to look at this car. He did,
and said it definitely was not his first Custom Cloud. The seller also claimed
(as the air cleaner says) the engine is a 350 cu. in. The VIN shown has a letter
"U" as the fifth digit, denoting a 400 C. I. engine. A Monte Carlo ornament and
some spider insignia are mounted on the grill top. Nice IROC Z-style wheels.
5.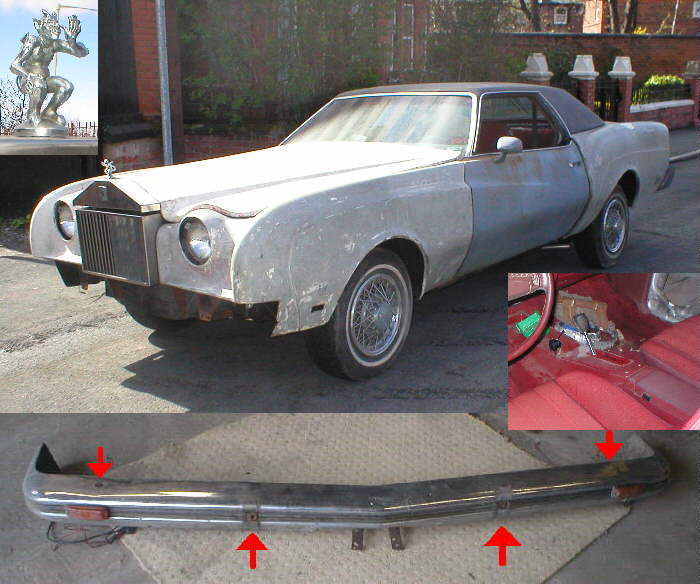 Is this the first Custom Cloud ever built?
There is a lot that indicates that this is the first one.

The first car sold to London England, and this car is near Liverpool England.
Jon Tedesco made the first one from a 1975 Monte Carlo, and this one was built in June 1975.
The first car was repainted silver with the Custom Cloud conversion, and this one was repainted silver.
Dean Giliard remembers the first one had a red interior and a dark, full vinyl top, and this one has that Oxblood
trim color.
The holes in the bumper (shown with red arrows) shows where the wide-spread fog lamps and close-together
bumper guards mounted (both were this way on the first car).
The modification of turn signals put on the bumper's front suggests there were no turn signals after removing the
fog lights (the first car used the fog lights for turn signals).
---
The owner of this car, Mike Roberts, provided the above pictures in 2010.
In 2013 he gave the pictures below of the restoration, along with information
indicating that this car is indeed the one from the Car and Driver magazine article.
This car was the first Custom Cloud as told in the Custom Cloud Story.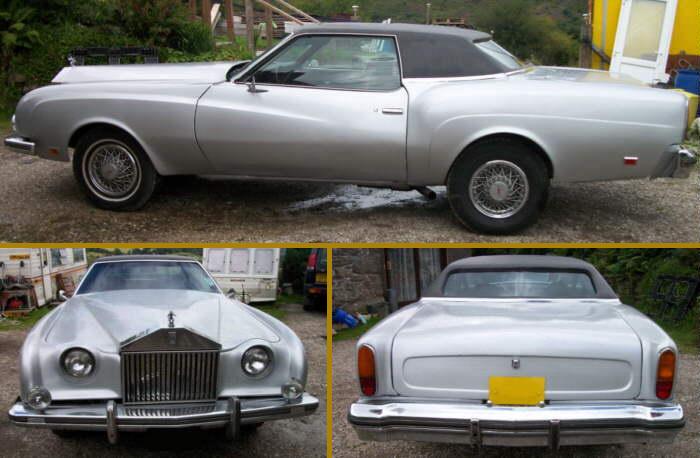 Besides the front bumper, I notice a few more unique differences on this car.
On the rear deck lid the raised surface for the insignia is missing.
Also, the license plate lamps are not on the deck lid.
6.
Custom Cloud grill and insignias, but Classic Coach taillights. Custom
Cloud labels on Cadillac wheel covers, and a cherry-red interior.
This is the car that was advertised as one of only 14 produced.
This car was bought by A. Evans in Hamlin, Tx. Mr. Evans
also bought Joaquin's grey Custom Cloud (car #3 above).
7.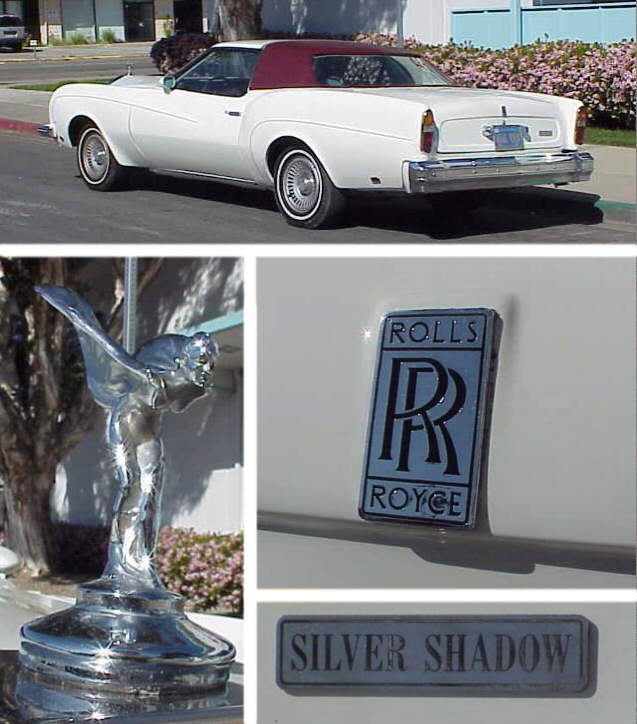 A Rolls Royce impostor!
The Rolls Royce Flying Lady hood ornament
is officially known as the "Spirit of Ecstasy."
8.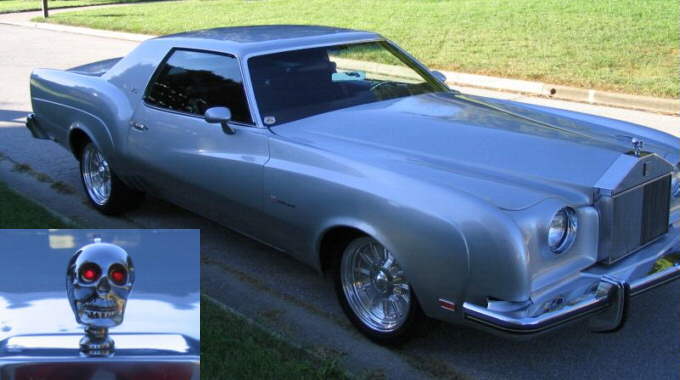 Very unusual wheels and hood ornament. A ghostly effect!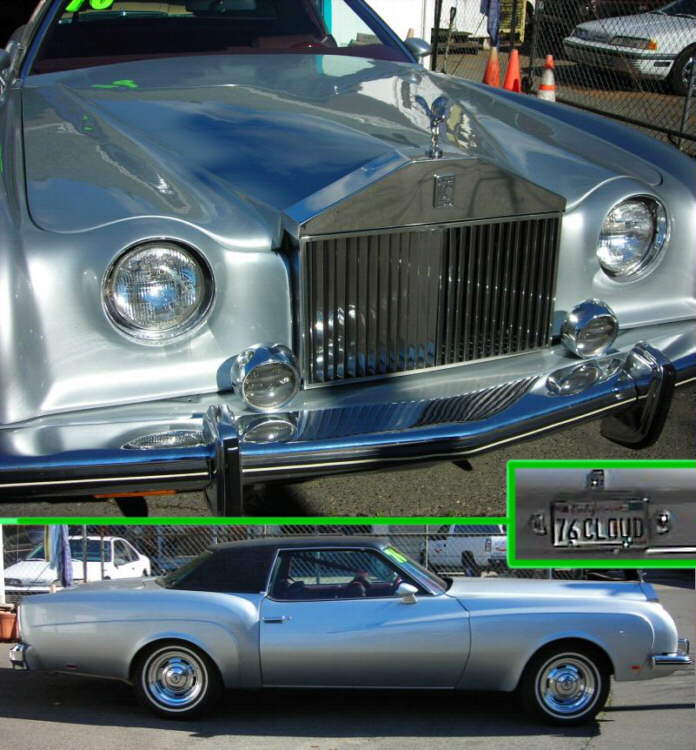 In February 2011 this car was for sale. The price was $13.000.
The owner was Larry Aggers.
10.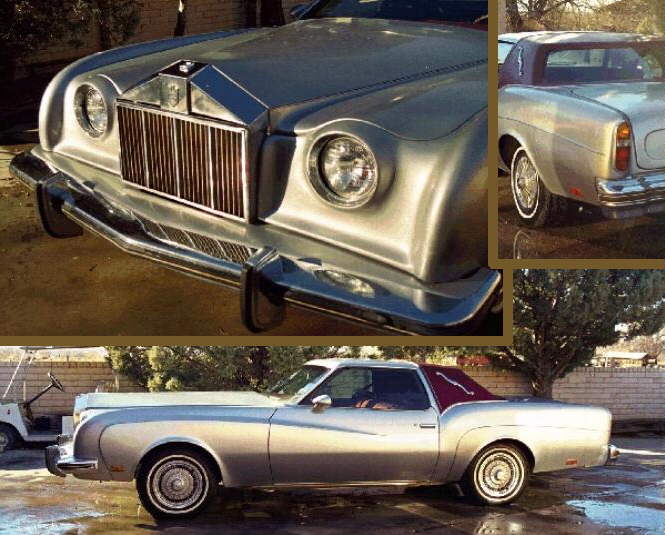 We finally get to see the newer Classic Coach grill, but without any
hood ornament. The taillights are original Custom Cloud units.
11.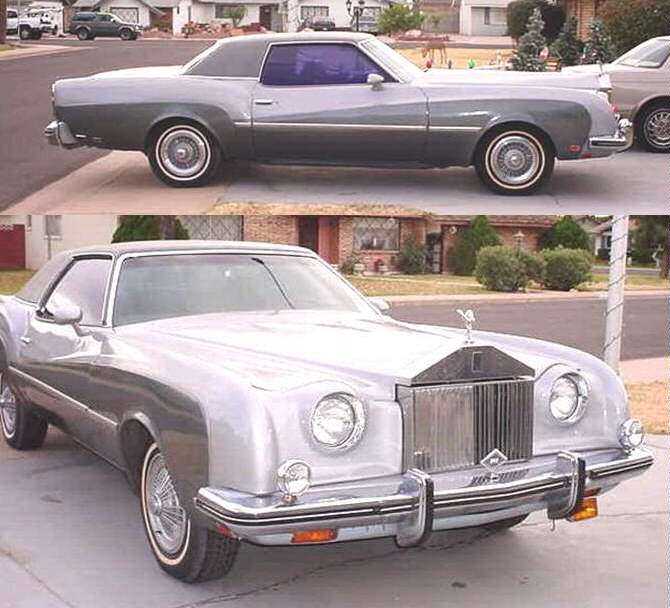 This one was found in Phoenix, AZ. Nice two-tone gray/silver.
Note the extra side-marker lamps, and one tacked-on left parking lamp.
12.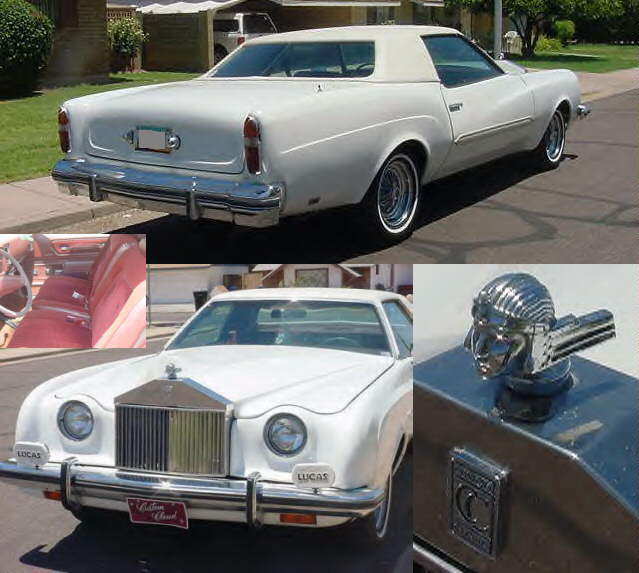 Unusual rectangular fog lamps. That hood ornament looks like
one from a Pontiac. This car was offered both on Craigslist and
eBay in 2008. The seller claimed it only had about 17,000 miles.
13.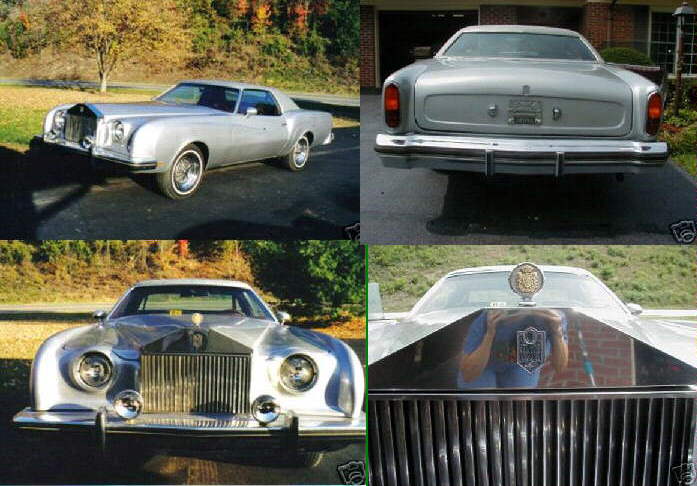 Jim says this car was bought by M. Vernis of Akron, Ohio in August
2007, from the car's original owner, who changed the Custom Cloud
hood ornament, insignias and taillights to Classic Coach units.
The same car sold on Ebay in February 2014 with less than 20,000 miles on it.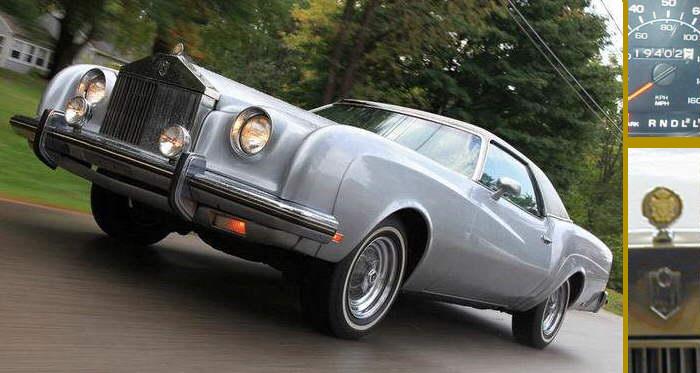 14.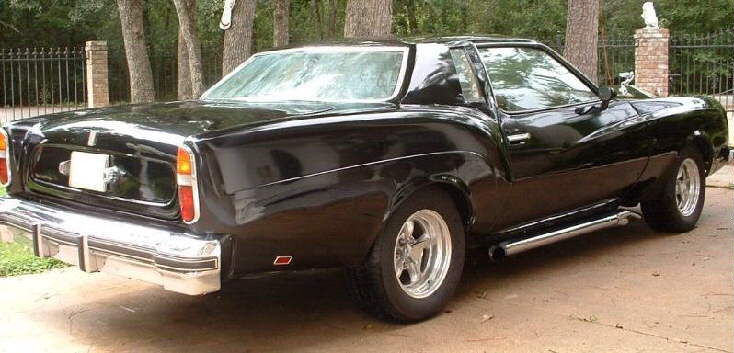 A hot rod with a 450 HP engine and a 4-speed transmission.
And, with opera windows, too!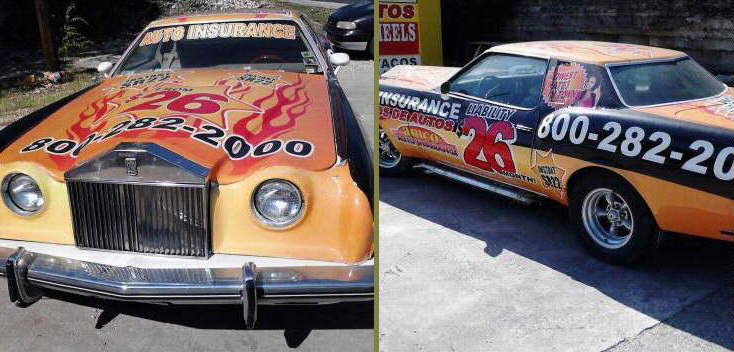 The same car was found in Austin, Texas in 2013.
It had been painted white before it became an Amco Insurance ad.
15.


Custom Cloud front with Classic Coach taillights on back.
16.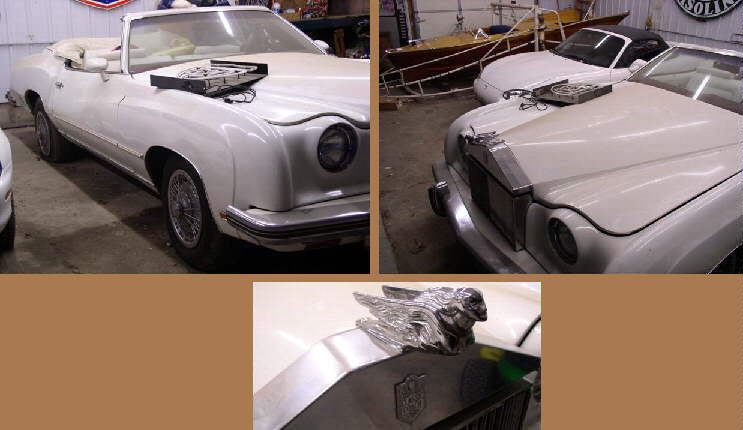 It's a custom-made convertible! All too often these cars get
used for shelves in garages. This car is owned by Leo, in Minnesota.
Note the rear quarters are still Monte Carlo, and the Classic Coach
insignia under the strange hood ornament.
17.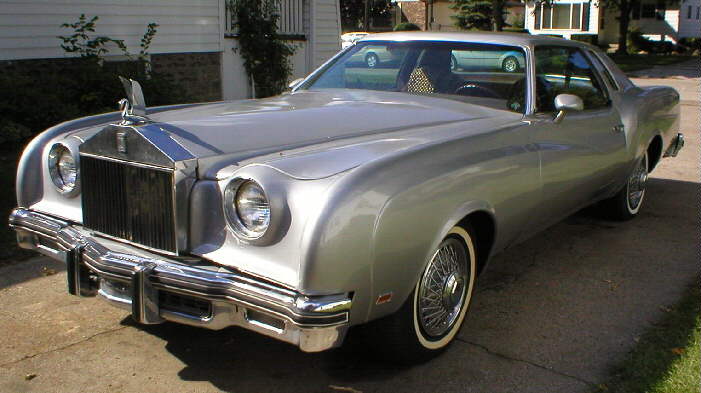 Unique swan hood ornament. Has opera windows, Monte
Carlo front bumper, and Chrysler Cordoba wheel covers.
18.


Unusual color. I like it! Dig those fat white walls!
This kit was installed on a 1975 Monte Carlo.
19.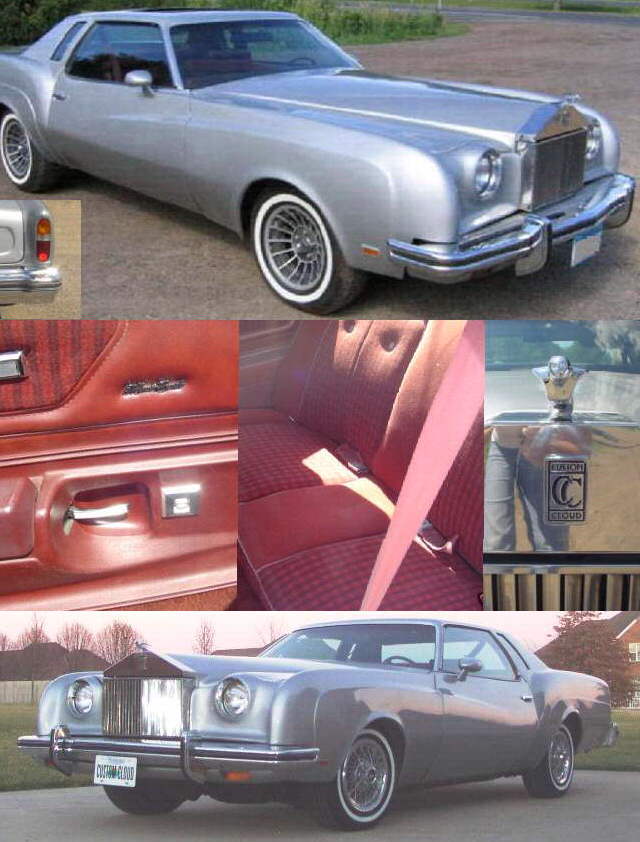 This is Jim Watts' Custom Cloud. It has the electric roof,
opera windows, and red plaid seats. But, the hood ornament
is not the original Flying Lady. Even Jim can't explain what this
hood ornament is. For the bottom picture, Jim lowered the
stance by using two-inch drop spindles and low-profile tires.
20.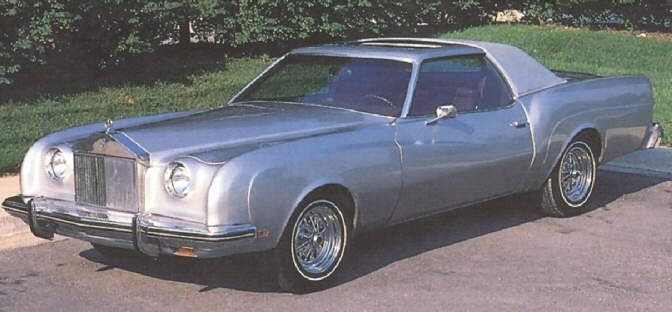 There's so many pictures of silver CCs that it's easy to
assume they are all different cars, when often they are not.
But, the combination of wheels, roof options, mirrors,
lamps, and bumpers define this picture as yet another car.
21.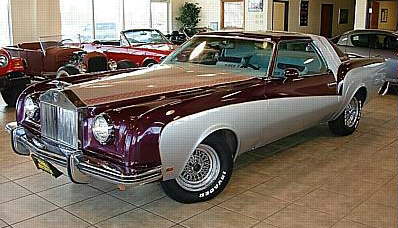 This is a 1974 Monte Carlo that was converted.
22. 23. 24. & 25.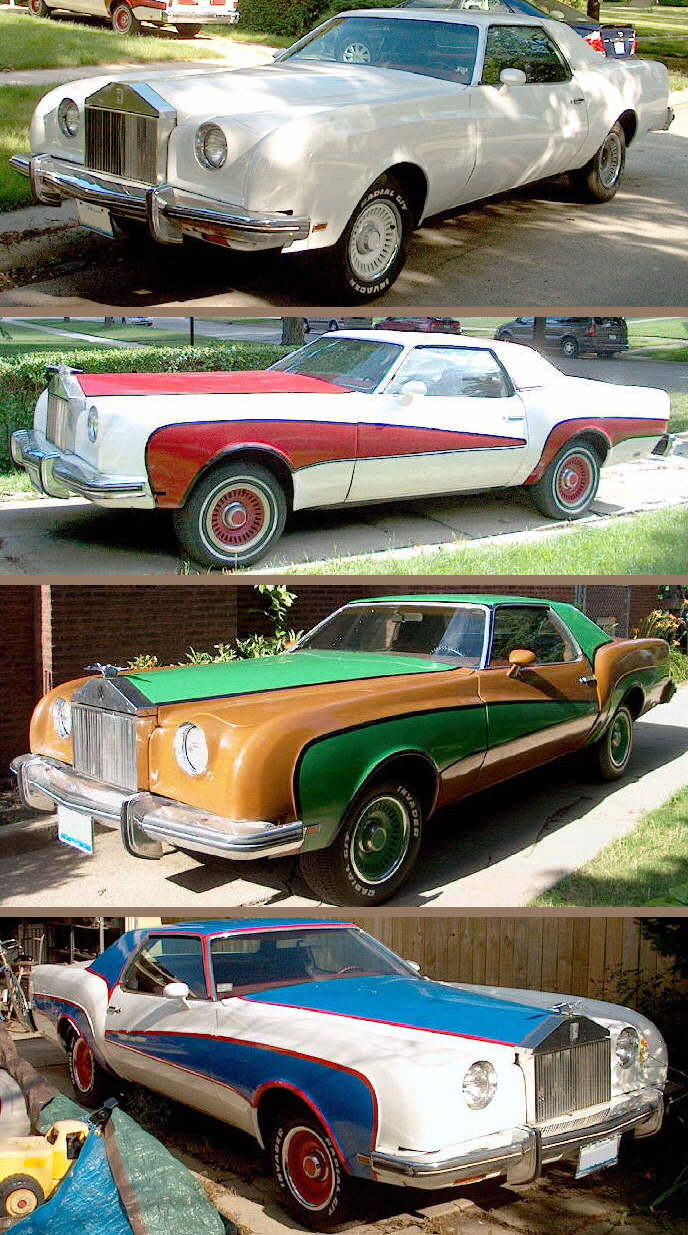 These four Custom Clouds all belonged to the same guy at one time!
I believe he sold # 25.
26.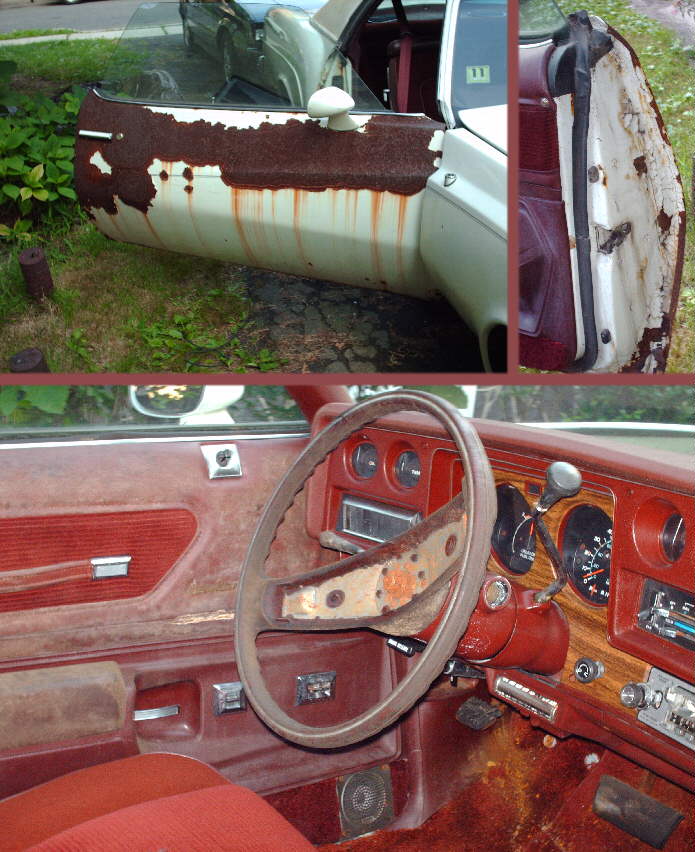 Joaquin's next project.
Mr. Rivera had sold his CC (# 3 above). After a viewer of this site told
me he had this 1975 Custom Cloud for sale, I told Joaquin about it. He
checked it out and even though he'd have to pay for it's delivery from the
East Coast all the way to the West Coast, Joaquin decided to buy and
restore it. Unusual cars have unusual problems. This one only has 45,000
miles on it, but it was left too long at a storage facility that lost the keys
after they lowered the windows. It was parked for years under a leaky
roof. The seats and vinyl dash pad are in great shape, but the car has
extensive water damage. Although the doors are atrocious, the bottom
of the car is in pretty good shape. Note the deteriorated door panel, rug,
and steering wheel. The ignition lock was removed to have new keys made.
Also note the after-market stereo, and the strange location of the door speaker.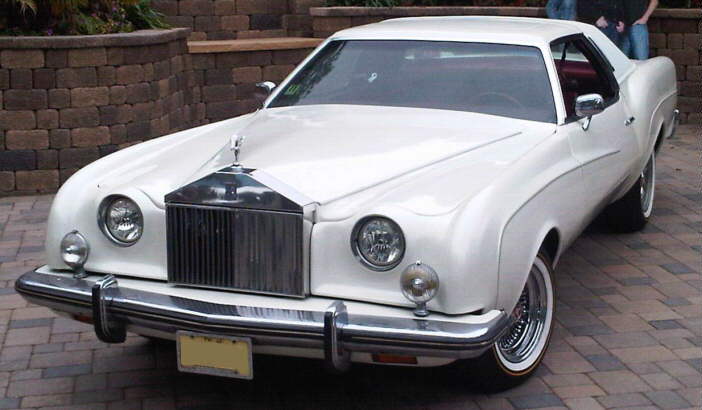 In 2012 the same car is almost completely restored.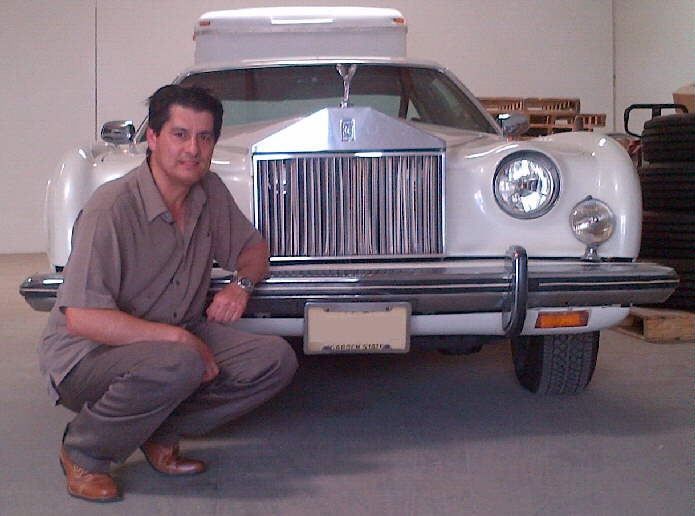 In July, 2013 Joaquin (pictured) sold his beautiful project to the Lingenfelter Collection car museum.
27.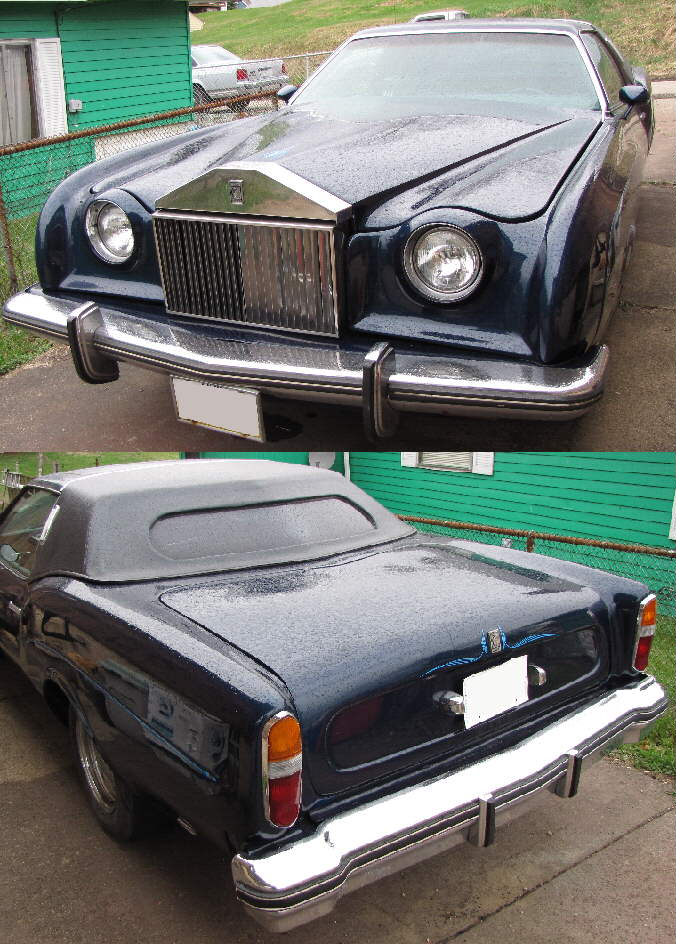 This Custom Cloud sold in Ohio in 2009
28.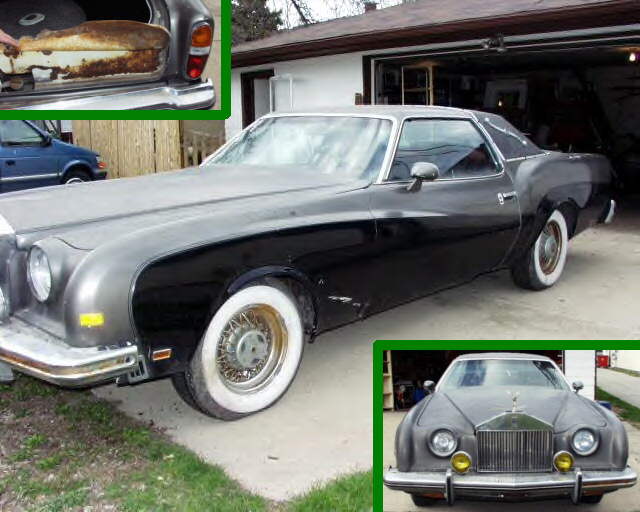 Jim Watts said he bought this Custom Cloud for parts. But, he
sold it in 2012 to someone who expects to fix it back up.
29.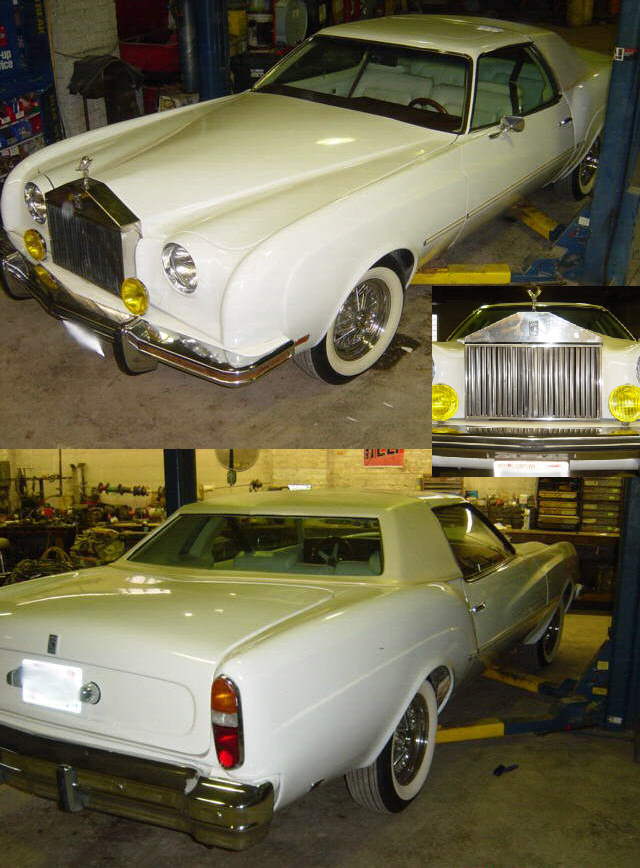 A woman in Milwaukee WI. notified me in February 2010 that she inherited this Custom Cloud.
30.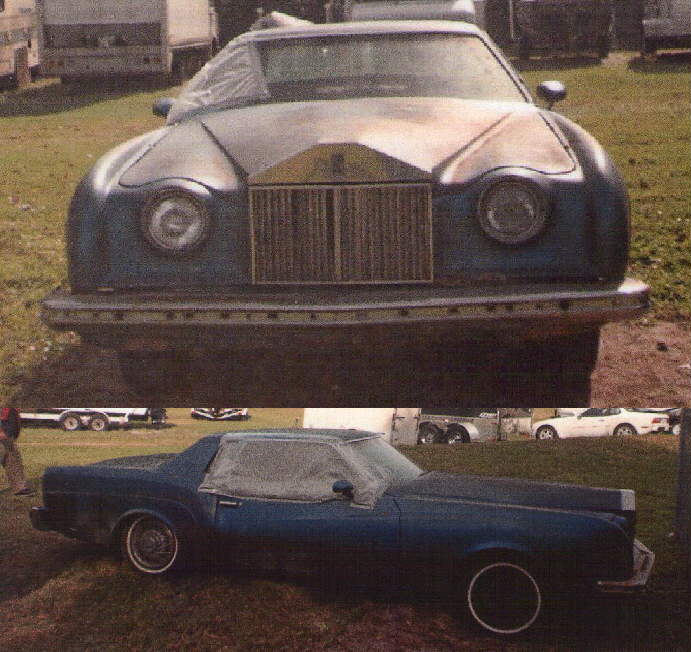 Found in Florida in 2010.
31.


Spotted in the Chicago area in 2013 and believed to be owned by owner of # 22, 23, & 24.
32.


Offered on Ebay in July of 2013.
33.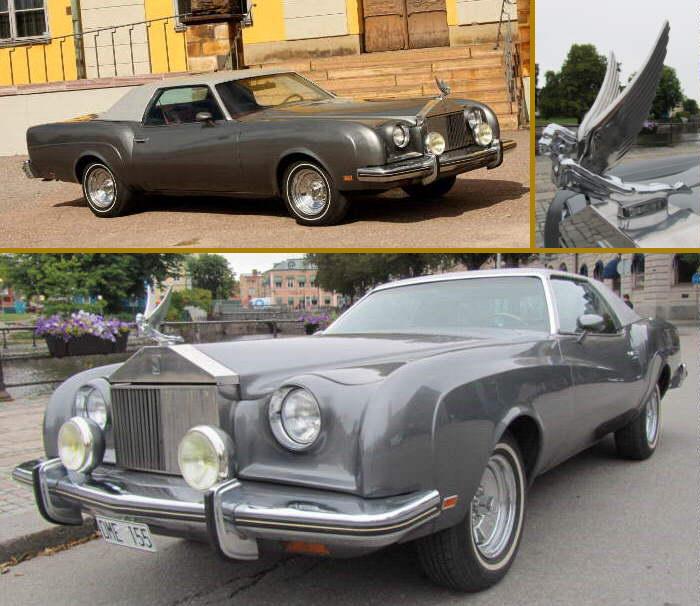 This Custom Cloud with its unique angel hood ornament found a new home in Sweden.
34. & 35.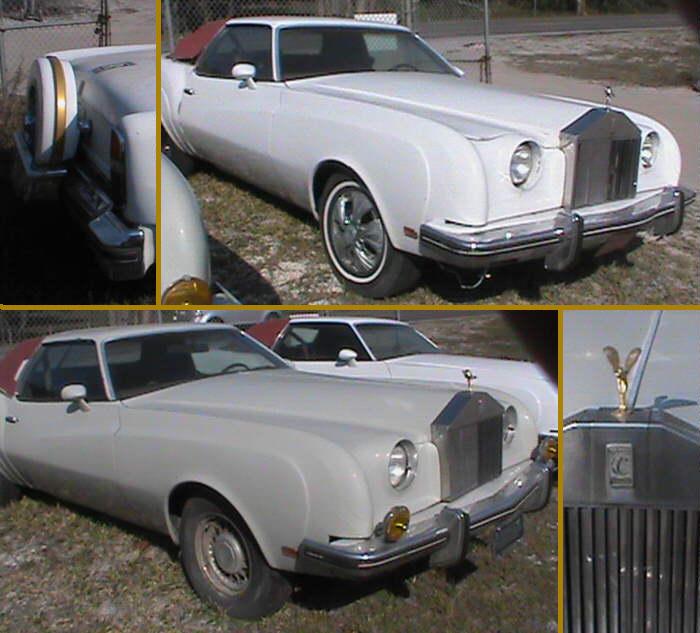 Renee inherited these two cars from her father. The cars were located in Zephyrhills, Florida.
David Miller found these two cars in Hamilton, Ontario, Canada in October, 2020.
36.


This car was also found for sale.
37.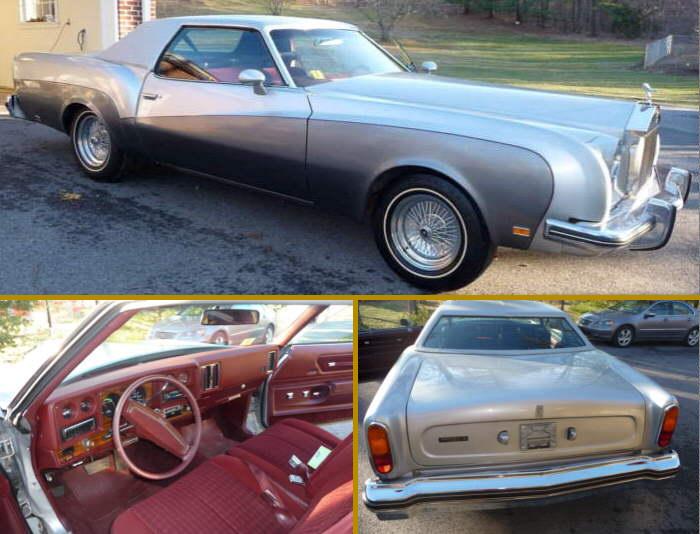 D. Wills tells me his late father-in-law bought this car from a dealer in Virginia with only 800 miles on it.
When I added this one to this page, the car had about 2100 miles on it..
38.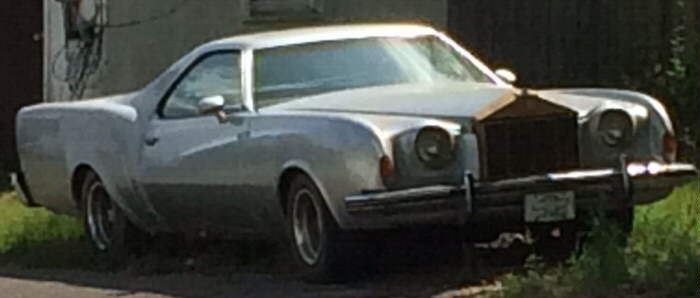 J. Morgan took a picture of this El Camino Classic Coach while passing through Spencer TN.
39.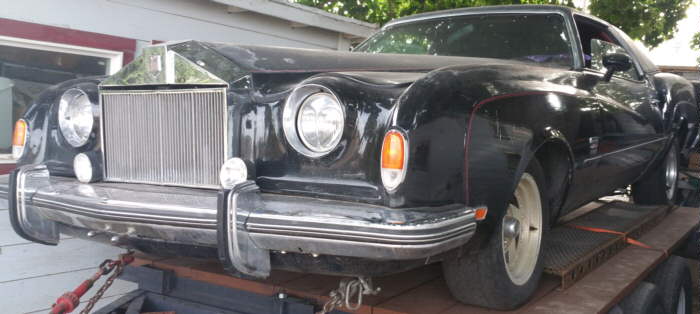 S. Staggs got this Classic Coach from Reno Nevada.
40.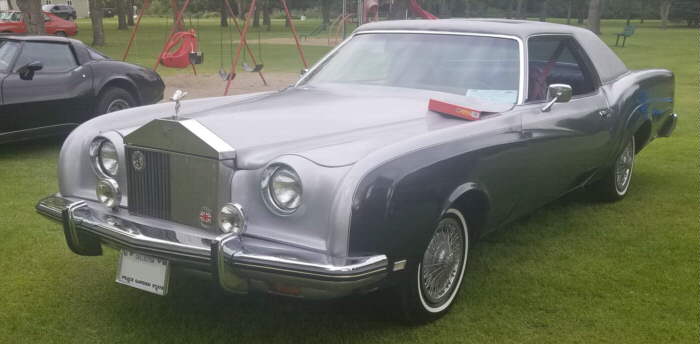 F. Keller in Minnesota owns this Custom Cloud
41.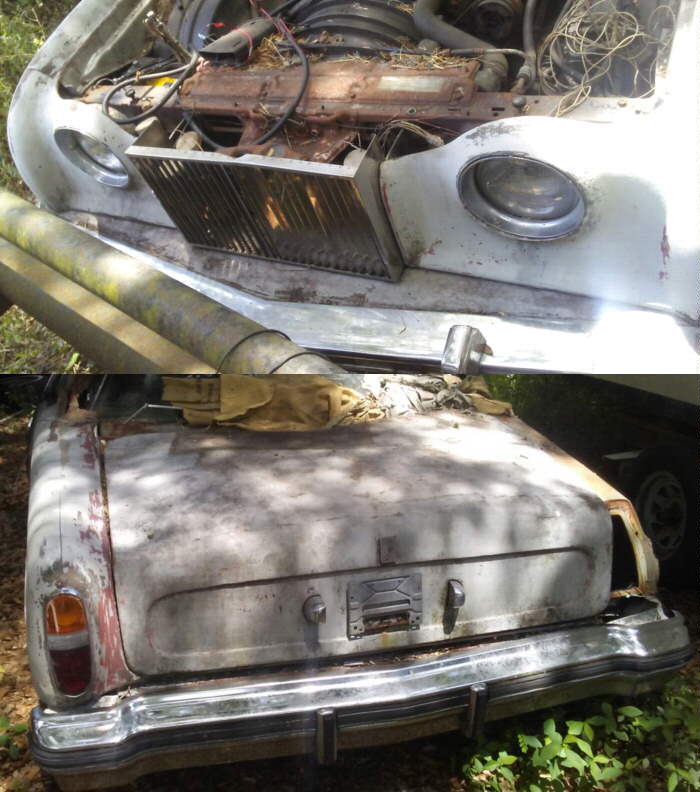 Keith Cantone had this car in the Orlando, Florida area. The transmission and 400 engine were running,
but the right Custom Cloud quarter was missing. He said the car was badly rusted, but the frame was good,
and all the Custom Cloud parts that were on the car were all good, with no cracks, or breaks anywhere.

Note: More CCs have been located that have not been pictured on this website.

The Custom Cloud that Charlie Wolters restored.
A complete Custom Cloud restoration process
You may contact Charlie Wolters at:
cpwolters@aol.com,
or at phone:
314-962-7678.
Thank you for visiting.
Enjoy!